Baby carriers from all our brands, ergonomic & easy to use !
Buy your ergonomic baby carrier at Vonvavoom before 22h and it will be shipped today ! Scroll down to read more about our products in our blog post.
-25% Special offer

159,- 119,25

-25% Special offer

159,- 119,25

-25% Special offer

159,- 119,25

-25% Special offer

149,- 111,75

-25% Special offer

139,- 104,25

-25% Special offer

139,- 104,25

-25% Special offer

139,- 104,25

-25% Special offer

179,- 134,25

-25% Special offer

179,- 134,25

-25% Special offer

179,- 134,25

-25% Special offer

179,- 134,25

-25% Special offer

179,- 134,25

Ordered before 22pm, shipped today
The specialist in baby carriers and wraps
Got any questions ? Ask our team !

-25% Special offer

179,- 134,25

-25% Special offer

179,- 134,25

-25% Special offer

179,- 134,25

-25% Special offer

179,- 134,25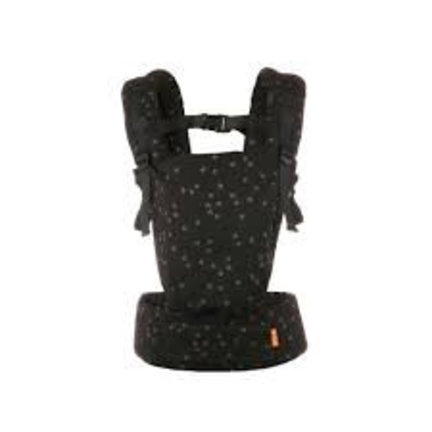 Carrying your child in a baby carrier.
In addition to being carried in a sling, you can also carry your child in an ergonomic baby carrier, also called "carrier", "belly carrier", "back carrier" or "baby carrier". A baby carrier is available in different systems, there are tote bags that completely close with buckles, a bit like the most famous backpacks. But there are also baby carrier bags that work with half buckles and of which the shoulder straps need to be knotted or where they work with special Velcro. There is also a baby carrier that has to be fully knotted, this is called a mei tai. At Von Va Voom you will find all these systems, you can specify your preference by filtering your searches for more accurate results.
From when can you carry your baby in a baby carrier ?
Baby carriers are made in different sizes. Each baby carrier has its own characteristics and fit, some brands focus on children who are slightly larger, so most baby carriers fit without inserts or additions from approximately clothing size 68. There are also baby carriers with a so-called infant insert, or baby insert, added can be integrated or integrated, these carriers can be used from birth. It is important that your child is supported from knee to knee, of course this also applies the other way, once your child's legs get too long for the baby carrier and is therefore no longer fully supported, the baby carrier is too small. You can solve this, with some carrier bags, by adding brochures. You can find more specific features for the different brands.
What a carrier is made of :
A baby product is made of material that is safe for your child, a lot of attention is paid to safety during production. There are baby carriers that are made entirely of canvas and / or cotton, but also sling fabric. Carriers made of sling fabric are often slightly more flexible compared to carriers made of canvas.
Which baby carrier is the most suitable for us.
This is very personal, you can assume that all products that Von Va Voom sells are suitable. All our baby carriers and toddler carriers are ergonomic for both parent and child. So you also look at what you find important. Ask yourself for whom the baby carrier will be used, and by whom mainly. Do you want a baby carrier with a print or a quiet plain carrier. Would you like a system with fully buckled closure or rather something else. If you answer all these questions, searching for the most suitable baby carrier is much easier. Of course you can always contact us to discuss your wishes and questions, we will help you find the most suitable baby carrier for you and your child.
View our summaries about our collection of baby carriers .
Ergonomic carrier bags from all famous baby carrier brands at Von Va Voom.
It is no coincidence that more and more parents discover the ease of using a baby carrier. It is important that it is ergonomic for both the child and the parent, and we guarantee that all our baby carriers have come through our strict selection and are labeled as ergonomic by our support consultants. We are the experts in this field. Try the popular Tula baby carrier, Bykay baby carrier, Bondolino baby carrier or one of the many other ergonomic baby carriers.
You have your hands free to occupy yourself with other tasks and kids.
You can often use a baby carrier starting from birth.
Wearing one has a positive impact on your bond with your baby thanks to the production of oxytocin, also called the cuddle hormone.
A baby carrier can be quickly adjusted and removed.
You can also carry larger children with a toddler carrier, very handy on vacation or with tired feet.
You can go to areas where you would not get that easy with a pram or buggy. Think of the beach, forest paths, narrow shopping streets, airport.
A baby carrier takes up little trunk space and also fits easily in a backpack, shopper or bicycle bag. So you can easily take it with you wherever you go.
Read more
Close