Tula Coast, the summer babycarrier with mesh for hot summer days.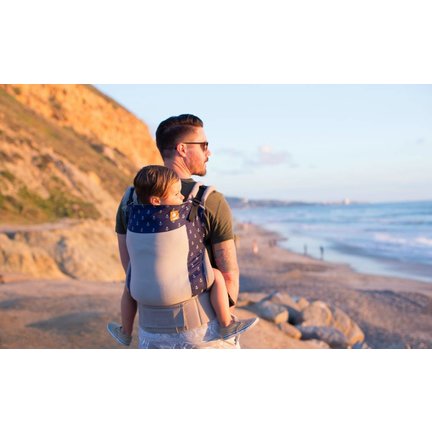 Tula Coast carriers with mesh.
Briefly, a Coast Tula baby carrier is a variant of the standard canvas Tula baby carrier and toddler carrier. The difference in the Tula Coast carrier lies in the materials used, namely has a mesh back panel and this carries great during hot summer days.
Tula Coast with mesh back, what is mesh?
As mentioned the Tula Coast variant has a different back panel than the standard Tula baby carriers, the backpanel, which is the fabric that is on the back of a baby is in fact made of mesh. thus optimal ventilation mesh is a fabric with tiny holes in it, and there will be more 'wind' by the carrier around. You can imagine that this sweating and hot summer days or long walks or trips to warm or even tropical countries, is very practical and nice. The mesh is super, and you do not have to worry fingers stuck in holes, because the small mesh holes are very small and thus safely.
Is the Tula Coast completely made out of mesh?
No, the Tula Coast isnt made completely out of mesh, only the middle part of the backpiece consists of mesh, around it it is made of the regular canvas and cotton as you may well know from the standard Tula baby carrier. Also, the shoulder straps and waist belt are identical to the regular Tula carriers, the comfort is therefore identical.
When is the Tula Coast with mesh really convenient?
The Tula Coast with mesh is very useful in many situations, for example:
-During warm spring and summer days
-at high temperatures inside or outside
-at fast sweating
-Long active walks (even in winter!)
-During a holiday in regions with a very different climate
-and it is also usable the whole year round just like any other carrier

I can not babywear with a regular carrier in the summer?
Yes certainly you can! A regular carrier was previously always used during summer! The Tula Coast is new and not many years on the market. Before this carrier was available there were many parents that worn their children just with regular carriers. Even in countries where it is always hot, but the Tula Coast is an invention for just a little extra comfort. 
Hopefully you're a little wiser now about what a baby carrier Tula Coast is and you can decide if this is what you are looking for. If so, then you'll find our range of Tula Coast carriers here. 
Read more
Close