The carrier.
What is a personal ergonomic baby carrier, and the different types of baby carriers are there? Which carrier do I need? Read it here.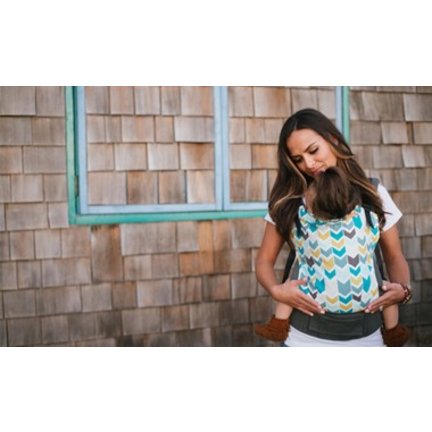 Wearing your baby in a baby carrier.
Besides carrying in a sling, you can carry your baby in a carrier named, also called carrier, baby carrier, back carrier or baby carrier. A carrier exists in different systems, so there are carriers which are fully consistent with buckles, a bit like the most famous backpacks. But there are also carriers which half work with buckles and whose shoulder straps to be knotted or where working with special Velcro. There is also a baby carrier should be knotted yet complete, calls with a mei tai. Von Va Voom will find all of these systems, you can specify your preference in the filters to search more easily.
From where you can wear your baby in a baby carrier.
Carriers are made in different sizes, you basically have seen infant carriers and infant carriers. Each carrier has its own characteristics and fit, focus some brands on children who are already slightly larger, fit most carriers so without inserts or additions from about dress size 68. There are also carriers which called infant insert, or baby insert, added may be, or is integrated, these carriers may be used from the birth. It is important that your child is supported from knee to knee and not with the legs spread gets stuck in too large a baby carrier, of course, the same applies the other way, as soon as your baby gets too long legs for your carrier and therefore is not supported more fully the carrier is too small. To resolve this, add some baby carriers, by spacers. Among the various brands, you can find more specifics.
What is a baby carrier made.
A baby product is made of material that is safe for your child, there is much attention to production safety. There are carriers that are entirely made of canvas, or cotton, but also sling fabric is a popular material for processing. Carriers made of fabric wraps are often just slightly smoother in comparison with carriers which are made of canvas.
Which baby carrier is for us the most suitable.
This is very personal, you can assume that all products sold by Von Va Voom are fine and good. Look also especially to what you care about. Ask yourself who is going to use the baby carrier, and by whom mainly. Do you want a baby carrier with a print or just a quiet solid carrier. If you want a complete system with buckles closure or prefer something else. If you know answer to all these questions is to find the most suitable carrier easier. Of course you can always contact us to discuss your wishes and questions, we will be happy to find for you and your child most appropriate carrier .
Read more
Close