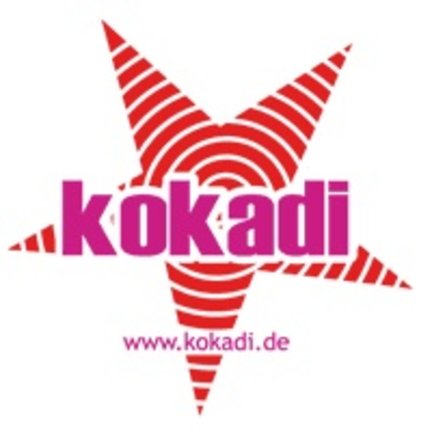 Kokadi carriers and woven wraps and ring slings.
Kokadi tragetucher is a brand from our neighboring Germany, for several years, this is a popular brand for those who love beautiful designs and prints in bright colors holding. Meanwhile Kokadi grown into a company which is not indispensable in our range. Whether you see the carrier and flip taitai or woven sling or ring slings.


The Kokadi carriers.
Kokadi carrier bags are an excellent choice. The carriers of Kokadi are made of a combination of woven wrap fabric and canvas, so they are very flexible and they fit well on you and your baby to. This carrier comes close to the feeling of a sling, but still have the convenience of a baby carrier. There are two lines carriers, a standard collection, which is often supplemented and a limited edition collection, taking on = on, frequently. There are also two types of carriers, the Flip system and the TaiTai system.
Kokadi Flip carrier.
This carrier is fully consistent with buckles on both the waist belt and two shoulder straps, simply click shut with buckles safe. The lap belts and shoulder straps to be easily customized.
Kokadi TaiTai carrier.
This is called a half buckle baby carrier waist belt closes with a secure clasp and the shoulder straps must be still knotted.
What size do I need?
Baby - From birth to around 80 pants size (up to 15 kg.)
Toddler - From pants size 74 to size 98 (max 15 kg).
XL - pants from size 86 to size 104 (up to 15 kg.)
Dimensions of the back, the back is the fabric that goes over your baby and connect from knee to knee.
baby - 42 cm (Width) x 34 cm (Height) / 16.5 in x 13.5 in
Toddler 47 cm (Width) x 38 cm (Height) / 18.5 in x 15 in
XL - 52 cm (Width) x 42 cm (Height)
Characteristics.
- The back and sleeping cap are made of fabric slings Kokadi wraps.
- The shoulder straps are filled with foam.
- The lap band is quite thin, but filled with solid foam.
- The carrier fits parents / caretakers to ladies size 34 to 48 (2 to 16 US)
- The width of the back is adjustable.
- The "sleep cap" can be used as protection against the sun, rain and wind or support a sleeping child.
- Older children can keep their arms outside the vehicle.
- The special coup seams there is a sort of "pocket" where the buttocks and back of your baby threading exactly, will the baby keeps its natural bulge in the back of each carrier of Kokadi.
A Kokadi woven wrap is fun and a little different than all the other slings.

For years Kokadi weaves unique Kokadi wraps. A Kokadi sling recognize, often quickly, they have left their own unique mark on the bearing world. Bright colors, cheerful crazy prints, anything can with Kokadi tragetucher. Kokadi brings both standard collection wraps alswel limited edition wraps off. One of the most famous and sought-after patterns Im Wunderland series. The Kokadi Erna im Wunderland might this be the most famous, this cheerful pink with blue sling showing a mountain with a tree and deer, the lover of many worldwide.
A sling of Kokadi is usually made from 100% cotton, but sometimes also in other materials or mixtures of materials. The cotton baby slings are equally soft and smooth to use out of the box and are excellent for both beginnerde bearing as the more experienced supporting. All slings come with a handy storage pouch, which is usually made of fabric sling, but not necessarily in the same design or color as the wrap itself. Further, the wraps are all provided with bevelled points on the short sides which the nodes of the sling is even easier and each sling includes a center mark to indicate the center of the sling, this again facilitates the nodes of a sling significantly.
Standard and limited collection Kokadi wraps at Von Va Voom.
Kokadi tragetucher consists of two collections, the standard collection and the limited limited editions collection. The default collection is completed with regularity, but the limited limited editions it against not. These are smaller and often one-off order in a particular color or material mix and this applies almost always = and sometimes these limited editions become very quickly sold out. Overall, nose soon continue, there is possible to find a nice design in our collection of Kokadi.
Read more
Close