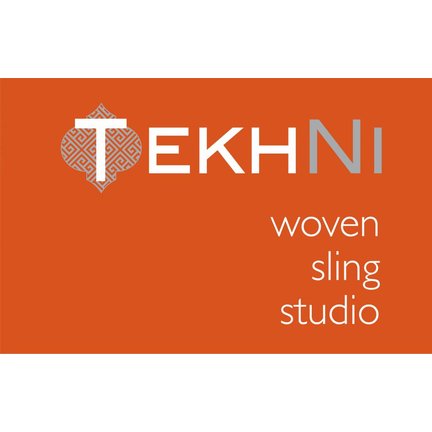 Tekhni woven from America, exclusively at Von Va Voom.
Tekhni woven is an American brand that makes special slings. They use unique materials such as, inter alia, repreve (recycled plastic bottles). Tekhni wraps are all woven and quality, the order in which each design and color is made very small and therefore limited. The wraps have special properties by the use of luxurious materials and unique designs.

In short, Tekhni brings textile design, art, materials and bearing children together in one product. A woven sling from Tekhni woven. We buy a few times a year, this particular brand, usually sit there with our cargo slings that have not been published officially and we are not yet able to place online, so make sure you regularly here in our collection will look to discover if there new gems of wraps are added to our range.
Tekhni buy without high shipping and customs charges on Von Va Voom.
No sense in high shipping from America and on top of that a customs fees? Then you order you still Tekhni sling with us ?! Fast home, low shipping and no customs fees. Handy! Have you seen a beautiful sling at Tekhni in America itself? Please contact us, we might just have a standing order moment for the door and we can your desired sling for your order now in our freight Tekhni.
Read more
Close