Erobaby Baby Carrier 4P 360 Cool Air Carbon Grey
Erobaby Baby Carrier 4P 360 Cool Air Carbon Grey
With the Erobaby Baby Carrier 4P 360 Cool Air you can carry a child from birth to approximately size 86. The Ergobaby Omni 360 can be adjusted in width and grows with your child. There is no need for a loose reduction cushion. This is a Cool version of Ergobaby, which means that the baby carrier has a mesh section. The advantage of mesh in a baby carrier is that this section allows air to pass through and therefore provides extra ventilation. As a result, this baby carrier is extra airy and therefore suitable for use in warmer temperatures or for people who warm up quickly. Of course, the baby carrier can be used throughout the year.
The Ergobaby ergonomic baby carrier.

The Ergobaby ergonomic carriers are easy to use thanks to the fully buckled locking system and also super easy to switch between different users, even if you both have a different waist circumference. You can roll up the Ergobaby baby carrier to a small package so that it is easy to carry in the bag. The Ergobaby baby carrier is incredibly popular, and we fully understand why. These carriers are very solid made and available in various designs,
Specific features for the Ergobaby baby carrier
Wide waist straps with lumbar support for good support on your back.
Padded shoulder straps for extra comfort.
Shoulder straps that can also be worn crossed.
Sleeping cap with sun protection UPF 50+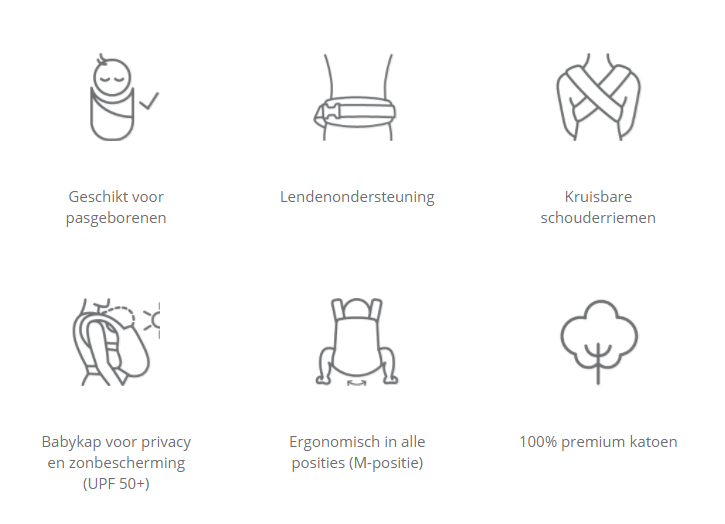 Ergobaby baby carriers are ergonomic carriers that completely close with buckles. The hip belt and the shoulder straps click and you're ready for the adventure (or the cleaning or whatever you want to do with your child) You can just wash an Ergobaby baby carrier in the washing machine at 30 ℃ we recommend this so to do as little as possible and to dab out any spots first with a damp cloth. 
Wear over Face forward. We advise you not to wear the face for more than 15 minutes in connection with the stimulation of your child and the fact that your child gets a bigger back through your body than we would like to see. We believe that a child with his or her face should be carried towards you.