The sling, any general information on baby slings can be found here.
The sling, what types of slings are there? What size sling do I need? When I start wearing? What buttons do I do with a sling? Read it here.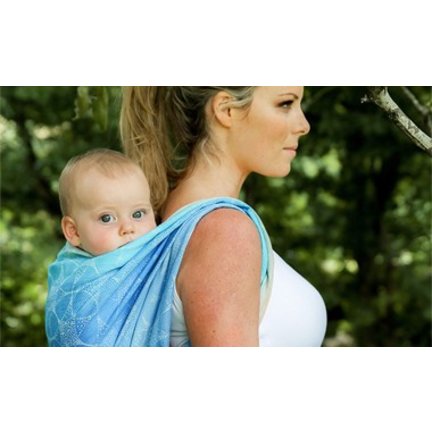 Carrying a baby in a woven wrap.
Most people know by now, carrying a baby in a sling. And in recent years the trend of wearing a sling increases sharply. There is now ample choice in many different designs and materials, and the famous people are also increasingly been spotted wearing a sling. Von Va Voom, you will notice a huge collection of, you will find us rammed the sling in your taste. View our current offer directly wraps. >>
What is a sling.
A sling is a long piece of fabric that is woven in a special way, are being taken into account all sorts of important issues in the production of baby slings. A sling contributes quite a baby and so should be safe. For example, there is given the likelihood of tearing of the carrying cloth fabric, but also, for example, or the dyes which have been used are safe. Making a sling is quite a complicated and time consuming process. With a sling allows you to create different buttons, tying a sling seems very complicated, but it is not that bad. A sling is almost always between 60 and 80 cm wide and often slanted points on the short side. A sling is always measured between two points on one long side.


Who is wearing a sling suitable.
Anyone can wear a sling, often wears a mother her child with a sling, but of course can also be a father carry a baby. Or how about grandparents or nanny or childminder, there are even nursery stay where the kids are worn. Also, if you or your child has, you can often carry a restriction with a sling, sometimes it is even extra practical too. Please contact us to discuss your situation, we have extensive experience in advising parents of premature or born sick children, or a parent instance itself is in a wheelchair. We can not be everywhere, but advice is always free, and if more is needed, we help you find a specialized carrier counselor in your area.
When you can start carrying a baby in a sling.
You can from birth start wearing your baby in a sling.
If you have just given birth, it is of course advisable to first just get stronger until you are strong enough eight. You can also ask someone else to carry your baby in a sling. You do not need to pass directly across distances and hours at a time to carry each other, build it together quietly. Also on the couch with the cloth around you is fun! Beautiful together Kangarooing, experienced skin to skin contact.
Read more here.
What are the benefits of wearing a baby in a sling.
There are many advantages to wearing your baby in a sling, both for those who bear much for the baby that is worn. When worn in a sling is the hormone oxytocin, the hormone is also called the cuddle hormone. This oxytocin makes a person feel confident and binds and attaches to people. Oxytocin plays a key role in the parent-child bond, the higher the oxytocin levels in one's body, the lower the stress level and the happier person experiences their feelings. When worn continuously oxytocin is created, all previously mentioned advantages, this hormone also stimulates lactation, excessive wear may thus increasing production work during lactation. Also learn to recognize the signals your baby quickly when worn in a sling. You will see that you have through very quickly when your child needs something. A newborn baby has a small field of view, approximately 30 to 40 cm, this lets just say the distance of the place on your stomach in the sling to your face. Your baby hears while wearing your heart rate, this sound is reassuring for your child, but would months grown under the reassuring click of your heart. The upright position having a baby in a sling, also has a positive effect on reflux babies. By holding it upright declining power less quickly and can better lower power. There are many more advantages to mention carrying a baby, but let us not forget that wearing your baby is above all very cozy.
Read more
Close